KESSEL EASYCLEAN AUTO MIX AND PUMP
Kessel grease separators can be found in complex operations such as shopping malls, conventions centres, hotels, food manufacturers across New Zealand. The KESSEL EasyClean Auto Mix and Pump range of separators cover the full spectrum of options for disposal of the retained FOG and have options for remote warning systems when disposal is required.
The KESSEL EasyClean range of products extends from the simplest of grease traps to sophisticated models that automate the entire process. The units can be installed feee standing above ground, or below ground with Class A Pedestrian or Class D Vehicular covers and risers.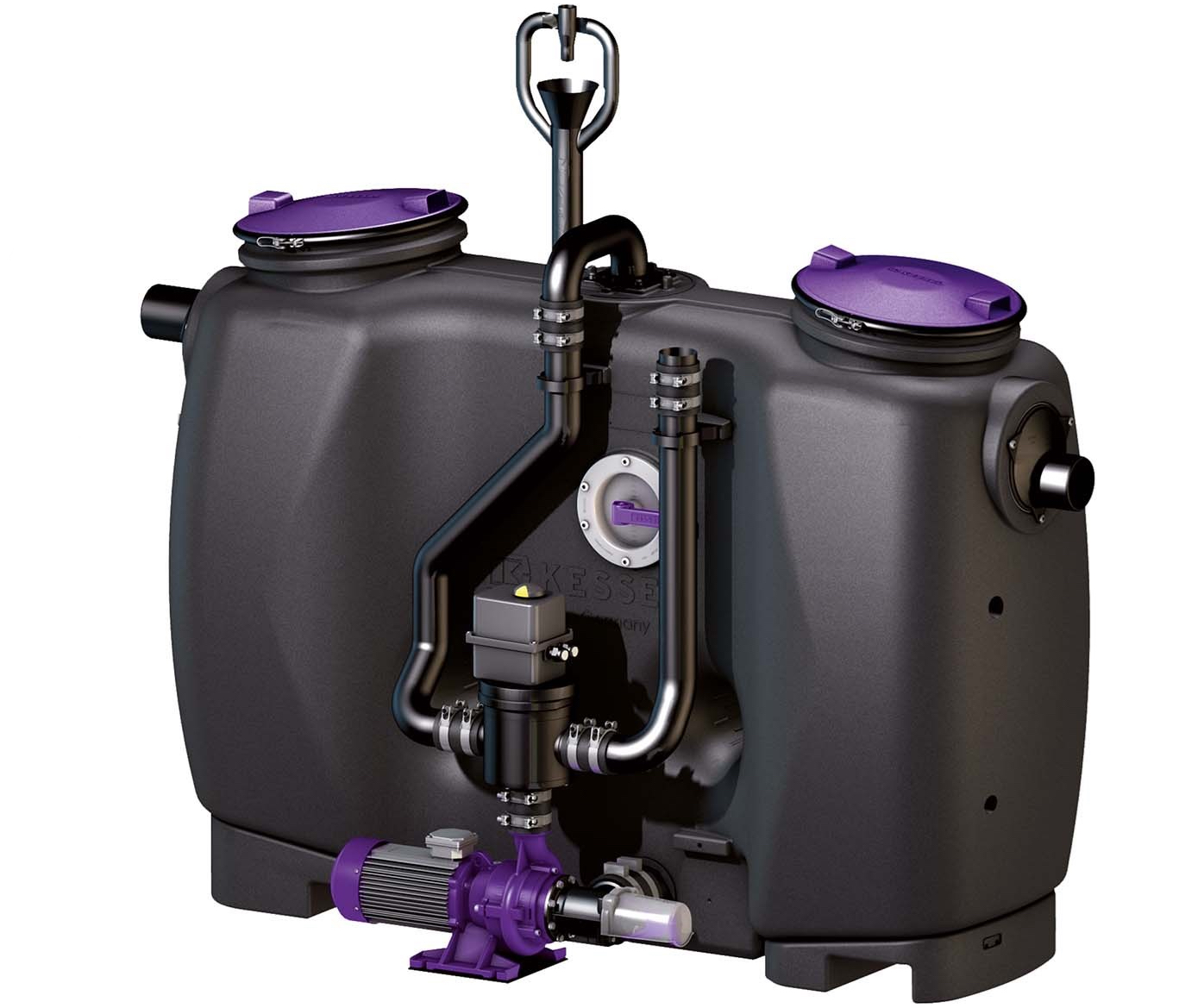 Grease separators must be completely emptied on a regular basis to dispose of the retained waste materials. The options range from a basic system with manual disposal to a fully automatic disposal system.
Direct disposal – Enables the extraction of the grease separator contents through a permanently installed disposal pipe without opening the tank.
Shredder-Mix-System – Fully mixes the contents of the grease separator into a slurry to aide in the disposal process.
Control unit – Enables the convenient setting and control of the grease separa- tor functions using a control unit mounted on the wall.
Disposal pump – Facilitates the emptying of the grease separator in the case of longer distances between the separator and the disposal truck.
Fully automatic – Controls the disposal and rinsing processes fully automatically.
Disposal Options
Mix
Auto Mix
Mix 

& Pump

Auto Mix 

& Pump

Direct Disposal
Shredder Mix System
Control Unit
Disposal Pump
Fully Automatic
EasyClean Free NS 2 – 10

(code)

Grease Storage

(litres)

Total Volume

(litres)

NS2 – 

93 002.01/PVS

100
600
NS3 – 

93 003.01/PVS

120
600
NS4 – 

93 004.01/PVS

160
800
NS7 – 

93 007.01/PVS

280
1350
NS10 – 

93 010.01/PVS

400
1900
EasyClean Free NS 15 – 30

(code)

Grease Storage

(litres)

Total Volume

(litres)

NS15 – 

93 015.01/PVS

600
2600
NS20 – 

93 020.01/PVS

800
3370
NS25 – 

93 025.01/PVS

1000
3700
NS30 – 

93 030.01/PVS

1200
4370
EasyClean Ground NS 1 – 10

(code)

Grease Storage

(litres)

Total Volume

(litres)

NS1 – 

93 001/120D-K-P1

70
230
NS2 – 

93 002/120D-K-P1

120
370
NS4 – 

93 004/120D-K-P1

160
370
NS7 – 

93 007/120D-K-P1

280
1100
NS10 – 

93 010/120D-K-P1

400
1600
Support • Information • Design • Sizing