Hydromechanical Grease Separation
Hydromechanical Grease Separators separate Fat, Oil and Grease (FOG) from greasy water which typically results from the preparation and service of food.  The term Hydromechanical Grease Trap means a design that incorporates air entrainment, hydromechanical separation, interior baffling, or barriers in combination or separately.
In the past concrete was commonly used in the manufacture of grease traps but the presence of acids in greasy waste resulted in corrosion and breakdown of the unit within as little as 10 years.
MACTRAP manufactures grease separators from High Density Polyethylene (HDPE) which remains totally unaffected by greasy water acidity allowing us to provide a 30 year warranty with all inground units – a strong financial motivation for building owners.
The benefits of MACTRAP grease separators start at installation. Because they are lightweight and easy to transport and maneuver they require less machinery and time to install saving up to 50% of upfront costs. If your application requires a custom size or configuration we can typically design and build to meet those requirements within four weeks.
MACTRAP manufactures products to support New Zealand's environmental goals and all of our products comply with the NZBC G13.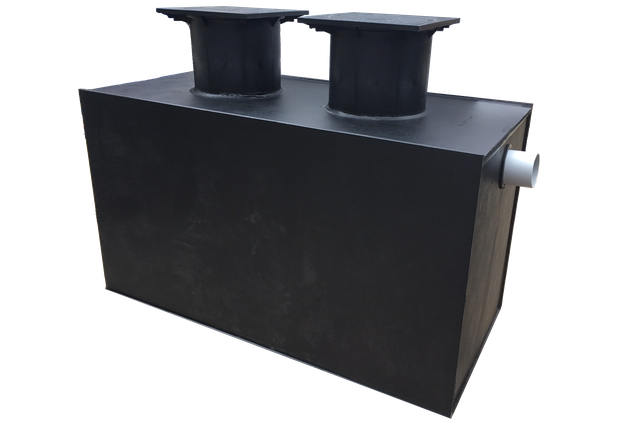 Polymer grease separator systems are a superior alternative to concrete solutions as they do not need to be refurbished, even after many years.
S = Above Ground Standard
A = Below Ground Pedestrian
D = Below Ground Vehicular
PRODUCT Code

Treatment Capacity

(litres)

Length

(mm)

Width

(mm)

Height

(mm)

MTPT75 (above ground only)
58
605
400
350
MTPT125 (above ground only)
97
730
430
430
MTPT250 (S) (A) (D)
252
1200
500
600
MTPT500 (S) (A) (D)
515
1500
550
850
MTPT750 (S) (A) (D)
726
1500
750
870
MTPT1000 (S) (A) (D)
946
1500
850
1000
MTPT1500 (S) (A) (D)
1550
2500
800
1000
MTPT2000 (S) (A) (D)
1980
3000
800
1050
MTPT2500 (S) (A) (D)
2460
3000
800
1250
MTPT3000 (S) (A) (D)
2940
3000
800
1450
MTPT6000 (A) (D)
5670
3000
1200
1850
Mactrap separators are available with Class D Vehicular lids in cast iron, and Class A Pedestrian lids in HDPE.
Flexible coupling allows easy installation into the surrounding medium.
The risers and covers are fully sealed.
The riser mounts are pre-welded and the riser flanges and screw on lids are provided separately. The riser flanges and screw on lids are installed once the exact height of the installation is known. The risers can be cut on site to the required height.
Surrounding concrete or other medium must be engineered for the appropriate loading.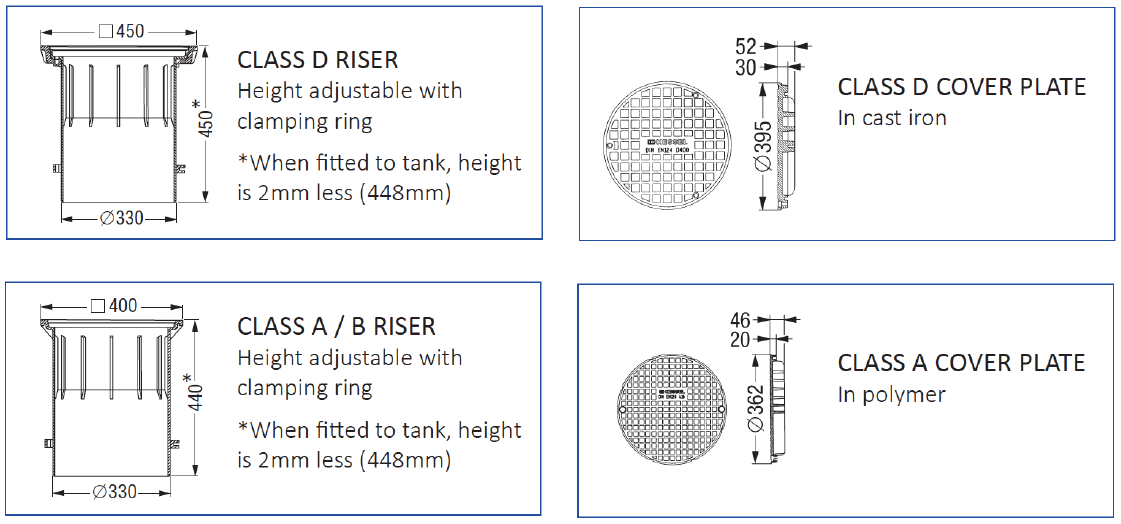 Support • Information • Design • Sizing