Hybrid Lifting Stations
For gravity sloped
wastewater
pipes
A hybrid lifting station combines the safety of a lifting station with the efficiency of drainage via a natural slope. During normal operation, wastewater flows with gravity through the Ecolift XL into the public sewer.
When flooding occurs backwater flap(s) automatically shut to protect the building. Pump(s) then activate to discharge the building's wastewater into the public sewer when backwater flap(s) are closed.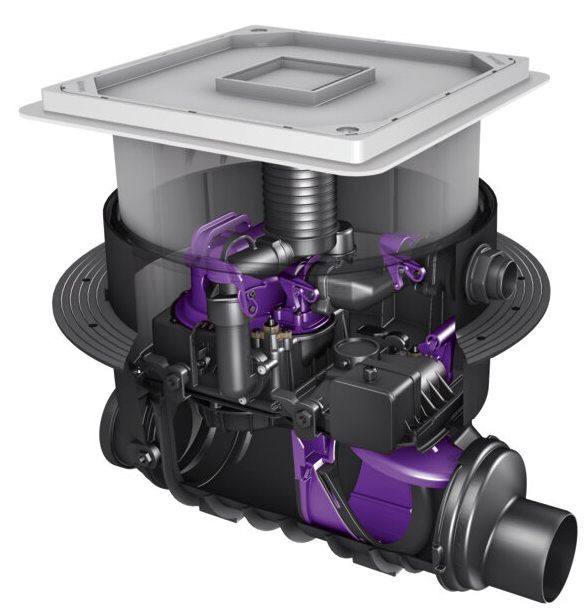 Pumpfix F is the only backwater valve that pumps against the backwater. In normal operation, the backwater pumping station continuously disposes of the waste- water via the slope to the main sewer, making it energy-neutral. In the event of backwater, the backwater flap closes automatically and when wastewater arises this is pumped against the back- water pressure. The integrated cutting system shreds solids meaning the Pumpfix F can be used with wastewater containing sewage.
Pumpfix F is available in two models – for installation in an exposed drainage pipe and for in-slab installation.
The Ecolift XL is a larger and more powerful version of the Pumpfix. This means that the hybrid lifting station is ideally suited to use in commercial buildings and apartment blocks. With a power rating of up to 4.5 kW, the Ecolift XL can also reliably pump the wastewater into a flooded sewer. Up to two motor-driven closure systems ensure isolation from the sewage pipe. However, this is only necessary in the event of backwater. In normal operation, the pump does not run at all and the wastewa- ter simply drains to the sewer via gravity.
The Ecolift XL can be installed as a free-standing set-up, in an underground engineering chamber or in a concrete floor slab.
Support • Information • Design • Sizing