PARKING DECK DRAINS
The load bearers made of Ecoguss
For parking deck drains we use our Ecoguss high-tech composite, which combines the specific advantages of polymer and metal and is an economic and easy to install alternative to drains made of grey cast iron. At the same time, parking deck drains made of Ecoguss offer large advantages with regard to hygiene as well as fire protection and sound insulation and are extremely load resistant and break-proof. There are therefore ideally suitable for use in underground car parks, multi-storey car parks and industrial buildings.
Break-proof & load resistant
Our parking deck drains made of Ecoguss are breakproof and fulfil the requirements for load class B 125. They can therefore be loaded with up to 12.5 tonnes and can be easily driven on by cars or pick-up trucks.
Highest fire protection standards
In case of fire, water outlets constitute a risk, as the fire can pass through the discharge pipes and spread to other parts of the building. Our drains can be equipped with the Fire-Kit fire and smoke protection insert or the Quick-Fit passage seal with integrated fire protection. As soon as fire penetrates the drain body, the fire protection compound inside it swells automatically and seals the pipe socket against flames and smoke.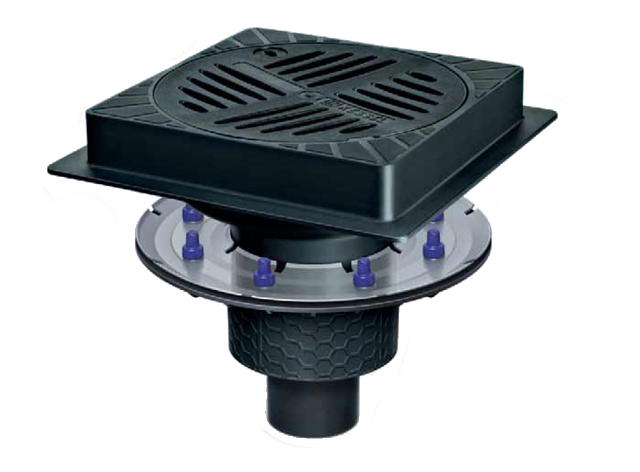 Extension Section

Without lateral inlet

Extension Section

With lateral inlet

Fire Kit

Fire protection insert

Quick fit

The all-round passage seal for core drillings for Ecoguss drain body

For use in combination with Fire-Kit fire protection insert

Multistop

Odour, foam, rodent and insect stop

Odour Trap

Standard odour trap

Odour Trap

Bell shaped odour trap

Hair Filter

Insulating Body
Support • Information • Design • Sizing